Green Mountain College
Poultney, VT
1948-1976
Introduction ~ Construction ~ Ski Lessons ~ Grooming
Snowmaking ~ Racing ~ Memories ~ Current Photos
Green Mountain College operated a very small, but important ski area on campus from 1951 to 1979. This college area surprisingly was the site of many innovations and quite unique facilities despite its small size. Nearly 5000 students learned to ski area from the 1950's into the 1970's! Bill Jenkins, an inventor and ski pioneer in Vermont, started this area.

The area evolved from the first college area at the Marcy Farm in Hampton, NY, just outside Poultney. A rope tow served a wide slope there, but there was a need to have something close to campus. Bill Jenkins closed the Marcy Farm area and restarted a ski area on campus.

On this NELSAP page, Bill will explain all of the details on the area far better than I can. But before we get into the history and operation of this area, here are a few highlights:

1. The area operated from 1951 to 1979, and was served at one point by three rope tows and a cable lift - similar to a short poma (poma like seats on a low climbing cable).
2. During the first few years, snow was trucked from around town and spread out on the slopes.
3. In the 1950's, the area had one of the first snowmaking plants in the country.
4. With a vertical drop of 31 feet, this was definitely one of the smallest ski areas ever in the United States. The lifts were only 300 feet long!
5. Bill utilized "Turfskis" - which enabled ski lessons to begin in September! Also, ski mats were used to allow skiing with no snow.

On the right is a picture of Bill Jenkins that appeared in a college promotional brochure. Here he is explaining the Turfskis!
| | |
| --- | --- |
| | A promotional pamphlet show the layout of the campus. The ski area is in the upper middle. Click on the image for a larger version. |
| | |
| --- | --- |
| A promotional pamphlet from an early year operation, 1951-1952. | |
Note - the below sections, except for the section on the area today, is written by Bill Jenkins. All historical pictures are provided by him.
At the Marcy Farm area, we had to transport the students a mile to that location from the college (with their ski gear) for each hourly class. It was chaos as you can imagine. After a few years of this, I excavated a nearby field and built three north facing slopes on the back campus of the college. Each slope was a different gradient for beginners, intermediate, and advanced skiers. Actually, by building the slopes, we were able to produce just the right grades for each level of student skier, and it was like a laboratory controlled operation. The almost complete lack of fear factors really speeded up the learning curve. The slopes, a minutes walk from the dorms, solved the problems.

I built a 300 foot electric powered rope tow which served all three slopes. Of some interest, because of my concern that tow riders could be injured if the safety gate should malfunction I designed an arm for the top terminal that had the return wheel on one end and a counterweight on another.

This was pivoted in the middle so that in the case of safety gate malfunction, the arm would tip down and the rope would derail. Obviously, everything would come to a screeching halt, but it was idiot proof, and worked just fine.

To the right is a view of the area, in the early years of operation, likely close to 1950. Click on it for the larger version.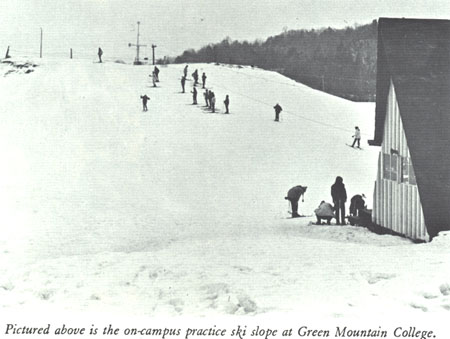 Vertical drop of the slope was an astounding 31ft 6.75 inches! At one point, there were 3 tows, and later a cable lift.
The offset cable lift was put in in the 60's, and it basically was like the handle tow of today, although easier to ride. However, for safety reasons, it became apparent that the cable levels needed to be raised, which in turn led to the lifts at Burrington Hill and the one in New Hampshire at Temple Mountain, then eventually the Stabil lift design at Birdseye. This design had very simple construction, and was really the ultimate in skier safety and ease of riding.

At Green Mountain, I replaced the cable lift with the electric rope tow, which solved the safety problem, and also eliminated cold weather
starting problems The tows were originally powered by Wisconsin gas engines.

Ironically, at this time, there were so many problems with T-bars and J-bars that the resorts decided it was better to stick the customer up in the air on a chairlift so that one was reasonably sure of getting to the top without falling or being injured by a released T or J bar.
Here are various color views of the area, date unknown. Click on each for larger version.
The 31' 6.75" vertical hill.
Warming hut.
Skiing down the slope.
College in background.
Another view of the slope.

And some pictures of the various lifts. Click on each for larger version.
| | |
| --- | --- |
| | |
| Green Mountain offset cable lift. Cannot be derailed. | Electric Rope Tow. |
On this diminutive mountain, we taught 5000 students to ski.

Over 28 years of continuous operation, the ski school grew to be the largest college ski school instruction program in the country, reaching 350 students per season at its peak. Classes were held for 4 days a week for 5 hours daily. The slope was lighted, and skiing was available for 3 nights per week.

No college student ever suffered a broken bone or serious injury, during the 28 year span, and this included the racing teams, and weekend skiers at Pico.

I instituted a rigorous inspection program to check release settings of bindings. I was one of the first to use releasable bindings in a ski school operation, and it really paid off. I was also the the first ski school to use fiberglass skis, the Holiday Model by K2. I also had the students use short skis. Head height, or a bit longer. They would be considered long today.

Although it would no doubt be frowned on today, we taught all students to fall back, and on one side, on command from any instructor. We explained that to them, until they became experienced skiers, they could not properly evaluate when they were in danger of losing control.

On the right is the cover of promotional pamphlet, click on it for the larger version.
I also found a rather unique way to have beginners safely learn to experience forward motion on skis, while learning how to snowplow and snowplow turn. This eliminated the fear factor and danger of getting out of control.
So that fear and gravity could not take over, I rigged a wide boom on the rear of an Army surplus Jeep. Tow lines were attached to the boom. On the college football field, we towed 8 skiers at a time, round and round.
If a student had a problem, just let go, and wait for the next jeep to come by. Never an embarrassing fall! This worked very well as the jeep just creeped along at a very slow pace. The instructor sat on the back of the jeep and gave instruction. Advancement was exceptional, and very fast.
Various color pictures. - most years unknown. Click on each for larger version.
Skiers on the slope.
Rope tow in background.
Skiers line up for class at the bottom of the hill.
A lesson.
| | |
| --- | --- |
| | |
| 1971 class. | Lesson on the slopes in 1971. |
More black and white pictures of ski lessons. Click on each for larger version.
| | | |
| --- | --- | --- |
| | | |
| Shows safety wheel and tilt arm at top. | Students on the slope. | Ski class, warming hut. Ski storage on left in sheds. Skijoring jeep for snow packing. |
As a college ski school operation, I had the opportunity to use many innovations which came along. In early years the operation started the first week in January, when plastic ski mats became available, we started in September.
These worked quite well, and were followed by Turfskis, similar to today's roller blades. These were excellent. By the first day on snow, students could do parallel wide track ski turns on modest grades. Then, they quickly became proficient on advanced slopes.
Here are plenty of fall ski classes using turfskis and plastic mats! Click on each for larger version.
| | | |
| --- | --- | --- |
| | | |
| Fall classes. | Instructors practicing slalom. Skier is not streaking, is wearing cut off jeans. Quite an illusion! | Beginners learning basics on grass |
| | | |
| --- | --- | --- |
| | | |
| Skier on a brush mat. Bill Jenkins on far left. | Fall ski classes on brush mats | Fall classes on simulator, designed by Alois Mayer, ski school director Pico. Alois is also a a famous producer of scenic postcards and calendars. |
Beginner classes on grass and mats.
Grass is soaped
Summer ski camp for weight loss group. Upside down Astroturf. Turf skis teach parallel skiing.
| | |
| --- | --- |
| | |
| Fall ski classes | Fall - best time for classes! |
At Pico, Karl Acker and I, were the first to do grooming (snow packing was the term), as far as I know. Using a wide gauge Oliver Orchard Crawler, we outfitted it with 3ft long by 6 inch wide elm slats, bolted to the tracks for flotation.

I did the same, at Green Mountain College, to a John Deere bulldozer, which also served another purpose.

As Poultney is in the worst snow belt of Vermont, lack of snow was always a problem. So after any snowstorm, the village would load all the excess snow from the street plowing, and deposit it at the base of our slope. Then I would push the snow up the slope with the dozer. It was sometimes a bit sandy, but I often had depths of solid compacted snow, five feet deep. It would last forever.
Later on, I did try grooming with a large bombardier widetrack snowmobile. This worked fine, but trying to get it started on cold nights was a pain. Then I went to a Bombardier J5 Crawler tractor. And finally, I installed wide Terra-Tires on the Jeep, and it was perfect for grooming my modest slopes.
After retiring in the middle 70's, this led to me sell large, western farm tractors, modified with 66 inch high and 42 inch wide Terra Tires, to a number of resorts for year round use.
Then I designed a tractor, named the Yak 500, specifically for ski resort grooming, and many other uses. All the resorts are interested in the design, but no area will purchase, without seeing a prototype. I have never found a backer, but am still looking.
When High Pond Mountain opened in Hubbardton, the owner, W. Douglas Burden, asked myself and Stan Whitney to manage the ski school operation and the High Pond Inn. Our wives, Nancy and Joan, joined in managing and operating the inn.
There, the first snowmaking system in Vermont was installed, and the second in the world, I believe. I had a hands on opportunity to learn about this exciting new discover.
Snowmaking became my salvation at Green Mountain College. I installed the worlds' smallest snowmaking system. It consisted of one Larchmont rotary unit, similar to lawn sprinkler, except that it was much larger, and had an opening for a compressed air line, as well as the water line.
To make it simple to move, and keep it from being buried in the snow, I mounted the snow gun unit on a 20 foot bom attached to the front of the same army jeep we used for skijoring classes.
My compressed air supply was 105 cubic foot air compressor mounted on a 2 wheel trailer. This was a standard outfit used to operate jackhammers. I rented it from a construction equipment supplier.
During snowmaking operations, I towed the compressor behind the jeep. By a great stroke of luck, I didn't need a water pump. At night, there was little demand for water at the college. our water supply was an artesian well which had unlimeted water available at 120lbs. This was more than enough pressure for snowmaking.
Consequently, I hooked up 500ft of black plastic water pipe to the maintenance building water outlet and this, with the compressor hose, was draped up over the compressor, jeep, and out to the snowgun on the end of the boom.
It was really a weird looking outfit, but it worked well. On a good cold night, i could cover the acre and half slope with six inches of snow.
In those days, freeze ups of water and compressor hoses were routine. Again, I was fortunate. Nearby to our ski slope was the college heating plant. On the ground floor, there was a large open area with a cement floor that was warm because of the boilers beneath. If I got a freeze up, I dragged the hoses into this space, waited an hour, then blew them clear with compressed air.
I soon found that the boom had another unexpected advantage. Because of its raised height, about 15ft or so, the amount of snow made was substantially increased, without additional costs. It gives me a chuckle, 50 years later, to see the latest snowmaking advancement are tower guns.
As you can imagine, making snow in Vermont in the early fifties was grounds for getting certified as a lunatic. However, as no other resorts had snowmaking, I was often the first to open my tiny, teeny slope.
The years went by, and I started a racing team at the college. Imagine running 10 gates at a time, on a 31ft vertical, 300' long hill, to practice racing against Dartmouth, UVM, Middlebury, UNH, Syracuse, Cornell, and others. Fortunately, we did have excellence cross country skiing trailes through the college fields and the nearby hills.

We used to kid the other teams that if wasn't for Green Mountain College, one of them would have to come in last.

Our crowning achievement was some years later, when the big college teams were moved up and we competed against U Maine, Colby, Williams, Bates, etc. We actually won the Bates Winter Carnival one year, and we were the only two year college competing.
Readers Memories:
Steve Anderson: I grew up in Poultney from 1961 thru 1976 and remember skiing there in the early 70's. It wasn't much but it was enough to keep the 700 girls there busy when they couldn't get to Pico or Killington. I forget if it had a rope tow or Platter pull. It was just one tiny open hill behind the tennis courts and the Library. In the summers they would use the hill for Bluegrass concerts and festivals as it made a great outdoor arena with its gentle slope.
| | |
| --- | --- |
| | Here is the site of the area in the late 1990's - note how its hard to pick out any details of the area. |
I visited this area in May, 2003. The hill still exists for the most part, and has been used as an amphitheater for outdoor events at the college. There is little that would identify this as a former ski area.

To the right are two pictures of the slope. Click on each for the larger version.
| | |
| --- | --- |
| | However, I poked around to the right of the hill and found a small dumping grounds, and lo and behold, there were parts of the old lift there! You can see the towers in the pile. Click on each for the larger version. |
If you remember this area and have more info just let us know.
Last updated: October 21, 2006
Head back to Lost VT Ski Areas