Pinnacle (NH)
Roxbury, NH
Nov 1959-1977
Pinnacle Mountain in Roxbury, NH opened in November, 1959 a few rope tows. The area grew, and by 1963 had added a beginner Pomalift. 5 trails and slopes, including a 2000' novice trail, gave primarily local skiers a great place to learn and practice. The area had a vertical drop of 250 feet. The ski season lasted from late December to late March.

In 1963, an all day lift ticket was only $3.00. A skating rink, nursery, and warming hut rounded out the facilities in that year.

Unfortunately, no other guidebooks listed the area after 1963. The area closed during the 1976/1977 season.

Here's the trail map in 1963.
Below, you will find what the area looks like today.
Many NELSAP readers remember this area or have additional information:

The topo map of the area.

Joshua Segal: Pinnacle Mt, Keene, NH Operated into the 70s (not to be mixed up with Pinnacle in Randolph, VT

(as the White Book did one year!) Perhaps 200ft vertical, platterpull lift and a couple of tows.

Don Hadden: When I grew up in Keene New Hampshire, I learned to ski at an area called Pinnacle Mountain. This was a small area with one rope tow and one chair (?). It was located just outside of Keene, in the Gilsum area. I took ski lessons there in 1975, and I believe the area might have closed a few years later.

As I recall there was even a good sized ski jump built near the base lodge. I hiked into the area last summer, and although the trails are now overgrown with 15-foot saplings, the base lodge and the old rope-tow machinery are still intact.

Bob Gates: There is a lost ski area not far from Keene, NH. It is off the south side of Rt. 9, just north of the Keene/Roxbury town line. It is not hard to see, the old lodge and the cut of some of the trails remains visible. It looks like it was pretty small but kind of steep. It has probably been closed for a while.
Keith Gordon: Here's another for your list. PM was a ski area just E of Keene, NH on

Route 9. It had a rope tow and a Poma and about 4 trails. Otter Brook

ran between it and Rt. 9. There was a bridge (now gone). The Base Lodge

is still standing. the lifts are gone and the trails are getting pretty

grown up to brush. It had no snowmaking and was at such a low altitude

that there was often a lack of good cover.

John Summers, who runs Summers Backcountry Sports Store in Keene,

owned PM when it was alive. It was a fun place to ski, I started there.

Daniel Corindia: Pinnacle Mountain (as I've always known it) is located on Route 9 just outside of Keene in the town of Roxbury. It is heavily grown over now and looks as if it at one time had a chair lift (I'm not sure though). You can find it by traveling out of Keene on Rt. 9 towards Concord, NH pass the Jct. of Rt 10 (on your left) and the access road to Otter Brook on your right. The ski area is located to your right as the road becomes 'twisty'. If you reach the East Sullivan Store (blinking yellow light) then you've go too far. Approx distance from Keene 8 miles.

I caught the end of your segment on channel 5 tonight and decided to look at your website. Good Work!! I had originally gone on looking for history on the Norwich University Ski area in VT since I was recently a student there. I also looked for Pinnacle Mountain in southwestern NH and found that it was not listed.

Al Guidotti: There was a ski area north east of Keene called Pinnacle. I believe the Keene State College ski team trained there.

Joshua Segal skied here on Superbowl Sunday, 1976, one of the last years it operated.

Jeffrey Younie: I learned to ski there. My family lived in Keene, as I still do, and had season passes. My brother and I would get there before it opened and ski till they closed down. We each broke a leg one week apart in 1971. We started skiing there in about 1970 and, I believe, it went out of business in the late seventies. The layout during my tenure was the Poma lift and the t-bar and a ski jump. There may have been a rope tow and skating rink but that was before my time. To my knowledge, there was never a chair lift.

P. Jensen: I am the last owner/operator of Pinnacle Mountain Ski Area, In Roxbury N.H. which is 5 miles north of Keene, N.H. on Route 9. The area last operated in l976/77 Season. It was a T-bar area with one main lift and a beginners lift which was a J-bar. I lasted one season due to a miserable snow season and having purchased an area that was sadly in disrepair. One of the more notable things about the area was that to get from the parking area to the base lodge and the lifts you had to cross a wooden bridge which allowed camp trailers and RV's to use the campground hookup in the spring thru fall season. Unfortunately that revenue did not provide enough to keep the area afloat. While I had the area I was fortunate enough to have the women's ski team from Keene State College practice there.

Bill Jennison: I remember working at Pinnacle as a lift attendant in the winter of 73/74. I think they had 1 poma (j bar) on the far left side of the mountain and 1 chair (or maybe it was a T bar) up the middle of the hill. I did not ski at the time so I had really no interest in what the hill was like. I needed a job for the winter and this was it.

Steve Lindsey: This Roxbury, NH ski hill is where I learned to ski. I visited the site on Jan 5. Men were clearing brush and burning brush piles. The bridge over Otter Brook is still out. The wings of the main lodge, pictured on your website, have been removed. They apparently collapsed after last winter's heavy snow. Two other buildings, a log cabin which was the ski patrol lodge, and a Austrian style home are still standing and appear structurally sound. I will burden you with one story. In 1974, the lodge had a dirty house cat which would eat the skiers' lunchs while they were out on the slope. On the coldest days, we would look forward to the hot cocca which was bland, but hot.

Mark Adamy: While I never skied at Pinnacle Ski Area in Roxbury, NH, as a student at nearby Keene State Colllege I lived in the home on the slope. I live there in 1982. The home was situated on the right side of the trail (looking at the hill) and was only accessible by car when snow wasn't around. When it snowed we would park in the main parking lot, cross the bridge and then hike up the hill to the house. In the winter we would hike up the trail for a little sledding and snurfing (pre-snowboard days) and then return to the base lodge area where we would set up bonfires.

Ward Bennett: I was a student at KSC from 1981-1985 and remember Pinnacle well. As Mark Adamy wrote, there were a few students who lived up there in the early to mid 80's. We used to hike and go snowboarding there. Yes, snowboarding in the 80's! One student had the original red Burton board w the strap bindings and the trails were still cleared enough to learn how to carve turns. We also went up there and tried to "track ski" in the summer. These looked like short skis w treads on them. Very fast and scary! Anyways, the photo of the dilapidated "brokedown palace" warming hut makes me feel kind of old. About 1983-84 we had a big bonfire/frisbee tourney party out there and it seemed the structure was fairly solid then!
Ned Bolle visited the area in July of 2001 and found out some more info:

The area can be found by traveling East on NH 9 out of Keene. After the Junction with NH 10 and the entrance to the Otter Brook Beach area, the area is about a mile up on the right. A turnout to the right, with a pile of logs, an old box car and the frame of the superstructure for access road bridge indicate you're there. There's not much left to see. The lodge is still standing, as is another building (Perhaps it served as the judging platform at the base of the Ski jump?).

Here's a pic of the dilapidated base lodge.
| | |
| --- | --- |
| | Most of the slopes have grown in heavily. I found the base of what I thought was the Poma, and here it is. |
Al Pels and John Tyler also remember skiing here.
Here's what the area looks like today. The various features of the ski area have been annotated.
You can see that it has grown in substantially...though some trails are still visible.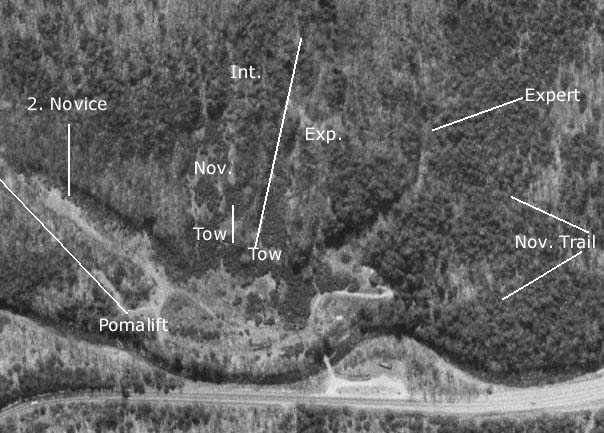 Do you remember this ski area? If so, please let us know.
Head back to Lost NH Ski Areas