Mt. Whittier Ski Area


West Ossipee, NH
Before 1949 - 1985

Jeremy note-we have lots more on this area to add, so stay tuned!

Mt. Whittier, in West Ossipee, New Hampshire, was truly a unique area. Many skiers today pass by it on the way to North Conway. The area was truly unique in that it never operated any chairlifts, just a gondola and several T-bars for the majority of its life.

The area was founded around 1948. In 1949, three rope tows operated, of lengths 1200, 1000, and 300 feet. The 1200 foot tow served intermediate and expert trails 1000 feet long, a 400 foot novice slope and 2000' open slope for all classes. A new slope was cut in 1949, served by the 1000 foot tow which connects to the then existing slopes and trails.

In 1950, a 2000 foot platter pull lift, one of the first in the country, was installed at Mt. Whittier. It served 3 trails and slopes which included 1.2 miles of skiing on 80 acres. By 1957, all of the former rope tows were removed save for one 800' tow. In that year they only operated on 30 skiing days, most likely due to a lack of snow.



Mt. Whittier in 1963, the year of the new gondola.
Trail map from Buxon's Eastern Slopes Guide.

In the early 1960's, several T-bars replaced the poma lift and several new slopes were added. Around 1963, one of the first if not the first 4 passenger Mueller gondola in the country was installed at Mt. Whittier, significantly increasing their vertical to 1100' (although many guidebooks got it wrong, ranging from 1100-1700'). A unique feature of this gondola was the fact that it crossed Rt. 16, picking up skiers at a midstation. Several trails cascaded down from the gondola summit, leading to either the T-bar area or back to the gondola. One major problem existed: the slopes were too steep for most novices, and were so side the sun tended to melt the snow.
| | |
| --- | --- |
| Mt. Whittier in the late 1960's. | |


But the ski area had a lot going for it. It was easily accessible on Rte. 16, about 20 minutes south of North Conway. It had a great summit cafeteria with views in all directions. And the gondola provided adequate summer business as many people visited to the top for a vista of central New Hampshire.

Here's the trail map during the 1970's. Notice how the slope on the far right was gone by this year. (Trail map courtesy Brian O'Malley)
Unfortunately, snowmaking was never installed. The area dwindled during the late 70's and into the early 80's, losing T-bar as they wore out. By the time it closed in 1985, only the gondola, one T-bar, and a few rope tows were left. The owners tried to add summer business, including an alpine slide, water park, and bumper boats, but these failed to save the area. It closed in 1985.
Since that time, the area has really fallen into decay. Trails have become overgrown almost completely. Lifts have degraded to the point that they could never operate again. Despite all this, the cable remains on the gondola, and all the towers are still standing, including one in a McDonalds' parking lot!
Here's a new NELSAP feature...a clickable map of Whittier photos. Point your mouse over a particular spot to see the different aspects of Whittier, past and present! Click back on your browser to return back to this page.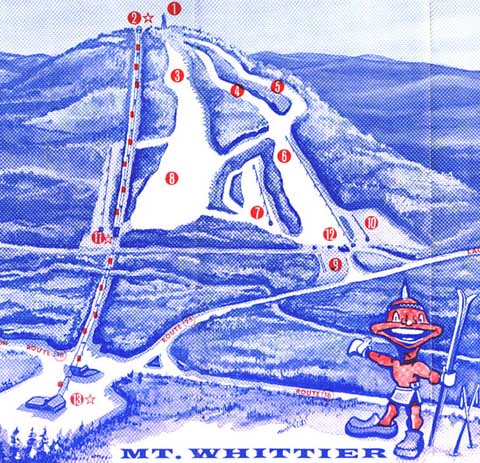 Trail Guide, 1968, map above
A-Hobbs Slope (novice-intermediate), B-Whittier Slope (intermediate-expert), C-Bear Camp Slope (intermediate), D-Sundown (intermediate-expert), E-Snowbound (intermediate), F-Barefoot (intermediate), G-Fanny Hill (beginner)
Lifts: 7 total, 1 gondola (6300'), 3 T-bars (2100', 1700', 1400'), 3 novice rope tows (500' each). 2 Rope tows were added from 1964 to 1968.
Readers Memories:
Eric Emerson: My family grew up skiing almost every weekend at Mt. Whittier from the mid-60's until the early 80's. It was a small, friendly family mountain. And it was difficult - both in terms of terrain and conditions! I don't think I realized that what went on at Mt. Whittier was not "normal" for a real mountain. You did get used to skiing on ice - which helped me when I skied competitively in high school and college, and which, also produced at least one Olympian - Maggie Connor who skied freestyle in the Lillihammer games. I have many stories that I can tell about this mountain and would be interested in sharing them with other Whittier alumni.
Some of the people I skied with at Whittier have recently spoken about hiking up the mountain and making one last run. I know the slopes are mostly filled in now, but I bet you could still pick your way down.
Head back to Lost NH Ski Areas