Bald Mountain Skiway
Oquossoc, Maine
1960-Before 1973
(Not to be confused with Bald Mountain, Dedham Maine)
Thanks to Steve Kijak, we now know the beginning history of this ski area in the Rangeley Lakes region of Maine. Bald Mountain ski area opened on January 31, 1960, following a 3 day opening celebration. The Governor of Maine, John Reed dedicated the mountain on that day.
Bald Mountain opened with an 800 foot rope tow that served one slope during the winter of 1960. A 60 by 20 foot base lodge also served skiers that winter. The summer of 1960 saw the construction of a T-bar to the summit of Bald Mountain, giving the area about 1200 vertical feet. Three additional trails were also built, from novice-expert. Unfortunately, it appears that this was as big as Bald Mountain was going to get. It closed sometime before 1973. Its remote location and proximity to Saddleback perhaps caused it to fold over.
Original plans for the trails will come online soon. For now we have this great photo of slalom racing at the ski area.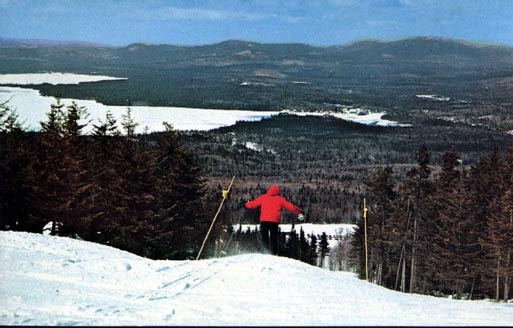 "Bald Mountain Ski Area, Oquossoc, Maine. Slalom racing down Bald Mountain set against the background of Rangely lakes and Mountains." Sometime in the 1960's.
In 1964, this listing was available:
1964
(Eastern Ski Map)
The only ski listing I have from 1964.
Operates weekends and holidays only.
Lifts: 1 T-bar
Trails: 3, plus one slope. Novice and intermediate.
Packers.


Anybody know anything else?