Powder Ridge
Middlefield, CT
1959-2007, 2013-
History ~ Layout ~ By The Year ~ Memories ~ Historic Images
Update- Powder Ridge is reopening in December 2013 for skiing! Check out their website, http://powderridgepark.com/.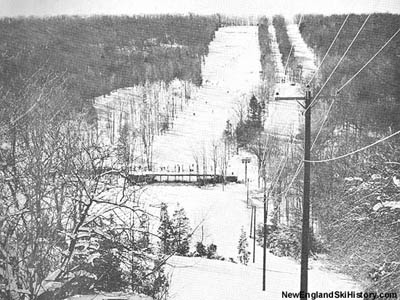 Powder Hill first opened in 1959 as a surface lift ski area. The area later added three Hall double chairlifts between 1963 and 1965.

In 1970 the ski area changed its name to "Powder Ridge" and made headlines as the planned venue for the Powder Ridge Rock Festival. After local opposition, the event was cancelled just days before the projected start. Due to the short notice, up to 30,000 concert-goers showed up and proceeded to trash the area and cause drug-related legal issues that would plague the courts for months to come.

The ski area attempted to expand later that year, but was blocked for nearly two years by local opposition. The new 747 chairlift, the first quad in New England, finally opened for the 1972-73 season. The lift had an unusual centerpole design.

Two triple chairlifts were installed by Partek in 2001 - one of which was built out of the existing quad chairlift. The ski area hit tough times soon thereafter, as hopes of expanding to a four season operation were shot down when the town blocked a water park proposal. At one point in early February of 2006, the ski area announced it was closing for the season. It would later reopen after a sizable snowstorm.

In the fall of 2006, the ski area announced it would not reopen. Plans later changed and it operated for its final season, 2006-2007.

The ski area has remained closed since then. In the spring of 2007 the town of Middlefield voted to purchase the ski area. Though it was unable to secure the property at a summer 2008 auction, it acquired the ski area from Middlefield Holdings LLC for $2.55 million later in the year. The ski area has remained closed through 2010 and the property has been heavily vandalized.
Brownstone Exploration & Discovery Park is now working on reopening the ski area, which should be ready for December 2013! We will have more updates on this.


Year
Lifts
Trails
Other Info
Source
1961-62
T-Bar, 4 Tows
3 slopes, 3 trails
Eastern Ski Map
1967-68
3 Double Chairlifts, 2 T-Bars, 4 Tows
6 slopes, 8 trails
Eastern Ski Map
1987-88
4 Place Chair, 3 Double Chairs, Tow
6 slopes, 8 trails
Eastern Ski Map
2006-07
Powder Ridge's last year of operation.
Chris Wickson: I remember skiing frequently on weeknights at
Powder Ridge
during my elementary through high school years. Our school usually had a
Wednesday night
trip during the season, and my friends and I would always sign up.
In middle school (86-87), we didn't find the mountain too challenging anymore, but were known to spend about an hour constructing the biggest jump we could with our skis and snowboards(a few of us had the original Burton style) below the last "big" drop on the 747 hill. We would last here until the staff came over with the snowcat and knocked it down. Then we would race the mountain top to bottom till close. I even remember my friend Tom and I attempted to ski top to bottom backwards more than once, which led to more involvement with the staff, who were usually pretty cool and didn't kick us off, just let us know how we could do some damage to us or someone else.
This was a good beginners mountain, I think they had a slogan "where America learns to ski" or something like that. I always had fun at Powder Ridge, I'm sorry to see it go
Do you have any memories of Powder Ridge? If so, please contact us!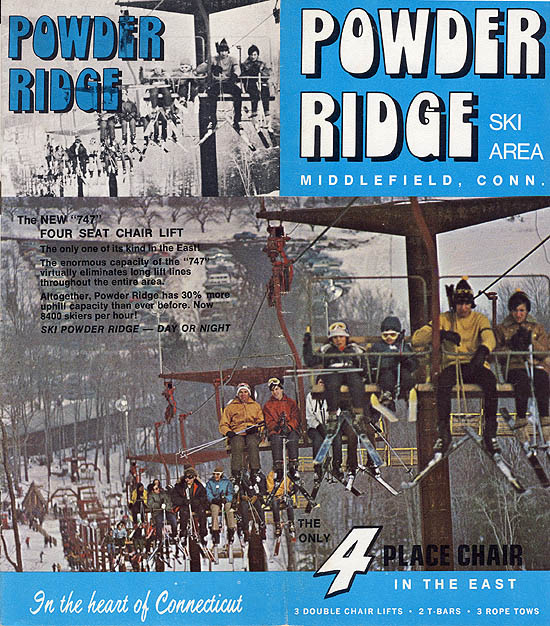 An early 1970s brochure advertising the new quad chairlift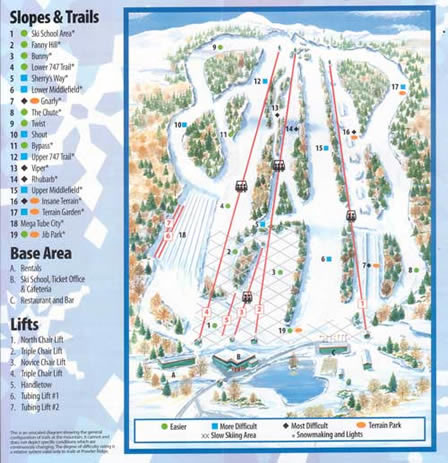 The trail map from the mid 2000s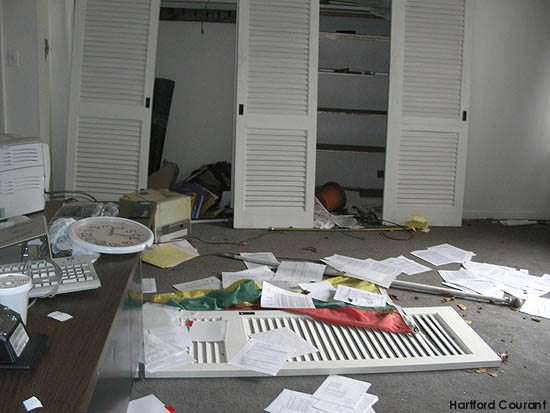 A vandalized office (2009)



If you have more information on this area, please let us know.

Last updated: July 1, 2013

Head back to Lost Connecticut Ski Areas