Major William E. Besse Park
Torrington, CT
?-Early-Mid 1970's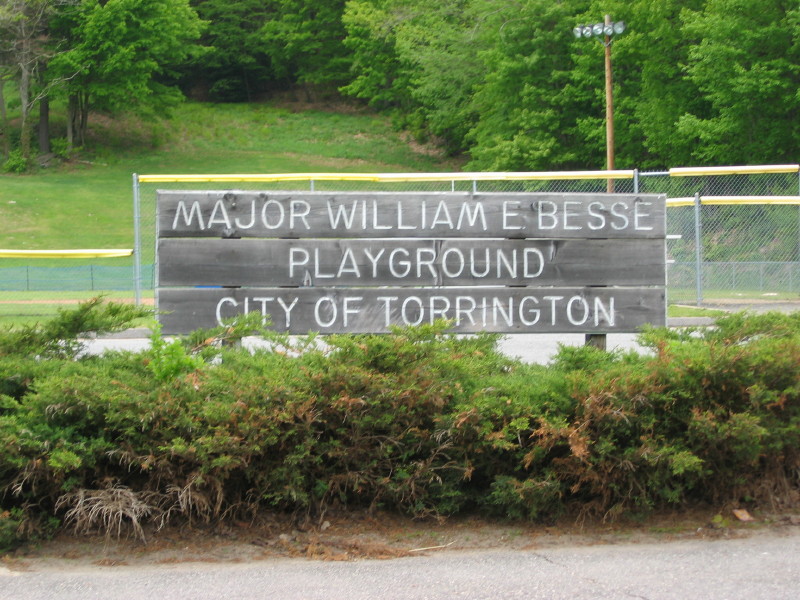 A sign for the park, thanks to Jon Regan.
History ~ Memories ~ Current Pictures
Major Besse Park had a ski area the operated from probably the 1960's into the early to middle 1970's. It was a typical town slope, with just a rope tow and limited vertical. It was run by the town recreation department.

The area was lots of fun for local kids, who enjoyed building homemade jumps and enjoyed the hot chocolate served.

Here's the aerial photograph of the ski slope. Courtesy of Terraserver.
T. Tagan: Besse park in Torrington had a one slope ski area, served by a rope tow until sometime around 1970. After that the slope remained for sliding until too many accidents occurred, and they put a fence across it half way up. It still remains as a sliding hill but only 1/2 as tall.
J. Mitchell: Major Besse Park on the west side of town has the remains of a rope tow. The park is used as a sledding hill in the winter. The town has fenced off the upper part of the hill, where the pulley still is.
David Cristaldi:I took lessons there in Jan. & Feb. 1971 when I was 13, and the first lift ticket I ever purchased was from there and I still have it! The hill was pretty steep on the upper half, and I remember looking down with a little fear the first time up to the top. Lost control of my turns at the bottom and sped to a major crash. That run sure taught me to turn more often! Especially on Besse's hard pack all-natural snow with no grooming! It may have operated as a ski area for one more year after that, but I was off to the big mountains of Mohawk and Sundown by then.
Paul R: It was run by the town Rec. Dept. until the mid seventies. At the time we all just called it "West Torrington". The other adjacent slope was just for sledders, and the rope tow was serviced by an old motor vehicle engine run by a town employee. Hot chocolate, etc. was also sold. Tickets were $1-2 dollars per session. I remember skiing there weeknights during high school, it was a social and recreational thing. Much more fun than gym class or dances. People of all ages came, and we would build jumps and have slalom races. I don't remember any problems at all. There was a toboggan, in case of accidents, that we brought and kept at the top of the hill each night. It was simply entrusted to whoever was skillful enough to use it. An awful lot of good skiers populated the place. This, however, was back in pre-litigious days. People got lumped up but didn't look to sue everybody. Alas....the "good old days". We also used to sled and ski on the city streets before salting became the norm.
Rich Galgano: Besse park was a lot of fun. My sister took lessons there and then showed me how to snow plow. The rope tow used to cost one dollar. There was a convenience store across the street which had a seats at a counter, served hot chocolate, and served at the "base lodge".
Paul Porada: I learned to ski at Major Besse slope. It was a fun place to go for a few hours in the evening. The slope was open until 1977-1978 winter, or later, because I has a drivers license and could get myself there. My thumb hasn't been quite the same since I wore a hole in my glove from using the rope tow then got frostbite where the hole was.
J. Regan visited this lost tow hill in 2005 and submitted the following photos.......
| | |
| --- | --- |
| A view of the area, showing the grown in slope. | |
| | |
| --- | --- |
| | A rope tow tower on the slope. |
| | |
| --- | --- |
| Looking down the liftline. Very grown in! | |
| | |
| --- | --- |
| | A small portion of the slope has been maintained. |
| | |
| --- | --- |
| A view of the slope after a snowfall. | |
Does anybody else have any more information? If so, please let us know!
Last updated: February 19, 2011
Head back to Lost CT Ski Areas